Introducing Dynamic Discount Codes: Enhance Your Shop Quiz App for Shopify
8-6-2023
App New Features
Shopify Apps
Tips & Tricks
At RevenueHunt, we're constantly working towards providing innovative solutions to empower merchants on Shopify. Today, we're thrilled to announce a groundbreaking new feature in our Shop Quiz app that takes personalization and customer engagement to the next level: Dynamic Discount Codes. With this exciting addition, merchants can now effortlessly offer tailored discounts based on quiz results, ensuring an unparalleled shopping experience for their customers.
Enhanced Personalization
We understand the importance of creating personalized shopping experiences, and our new feature enables merchants to do just that. By leveraging the power of dynamic discount codes, merchants can align their quiz results with targeted discounts, making each customer's journey unique and memorable.
Easy Implementation
Implementing dynamic discount codes into your Shop Quiz app is a breeze. Our intuitive interface allows merchants to seamlessly add multiple Shopify discount codes directly to their quiz results page.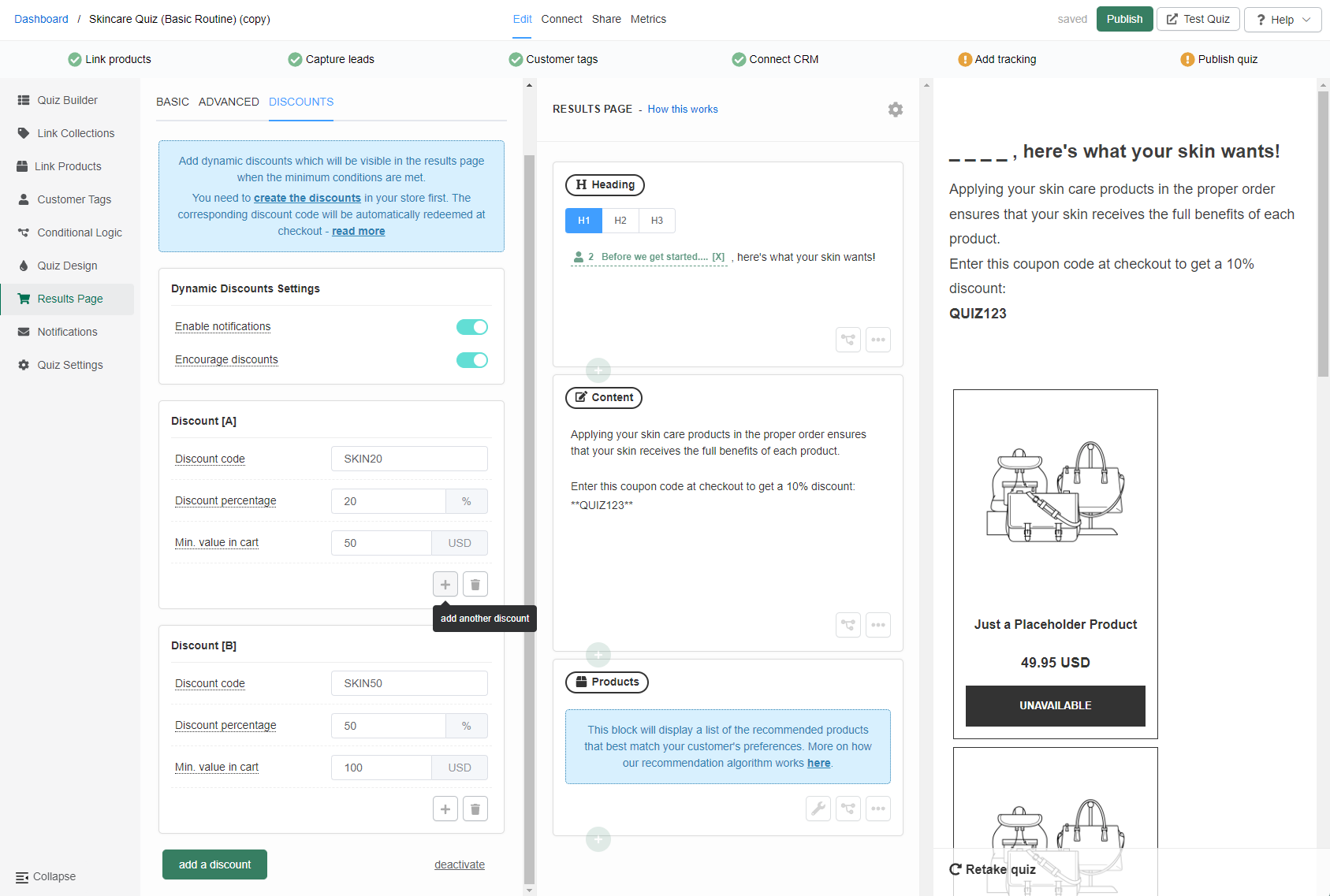 Tailored Discounts
With dynamic discount codes, you can create a wide range of personalized offers that cater to the specific preferences and needs of your customers. Whether it's a percentage-based discount or a fixed amount off you have the flexibility to configure the discounts based on quiz outcomes.
Automated Application
Gone are the days of customers manually entering discount codes at checkout. Our Shop Quiz app automates the process, ensuring that the discounts associated with the quiz results are automatically applied when items are added to the cart. This frictionless experience saves time for both the merchant and the customer, while also boosting conversion rates.
Enable Notifications
To further enhance the customer experience, merchants can choose to enable discount notifications on their results page. Once a customer qualifies for a discount based on their quiz results, a toast notification will appear, notifying them of the exciting offer they have unlocked. This instant notification adds an element of delight and encourages the customer to complete their purchase.

Encourage Discounts
We believe in rewarding customer loyalty, and our Shop Quiz app goes the extra mile. Along with the discount notification, merchants can include a message in the toast notification, indicating how close the customer is to unlocking the next highest discount. This incentivizes customers to explore additional products or increase their cart value, encouraging them to avail themselves of even more enticing discounts.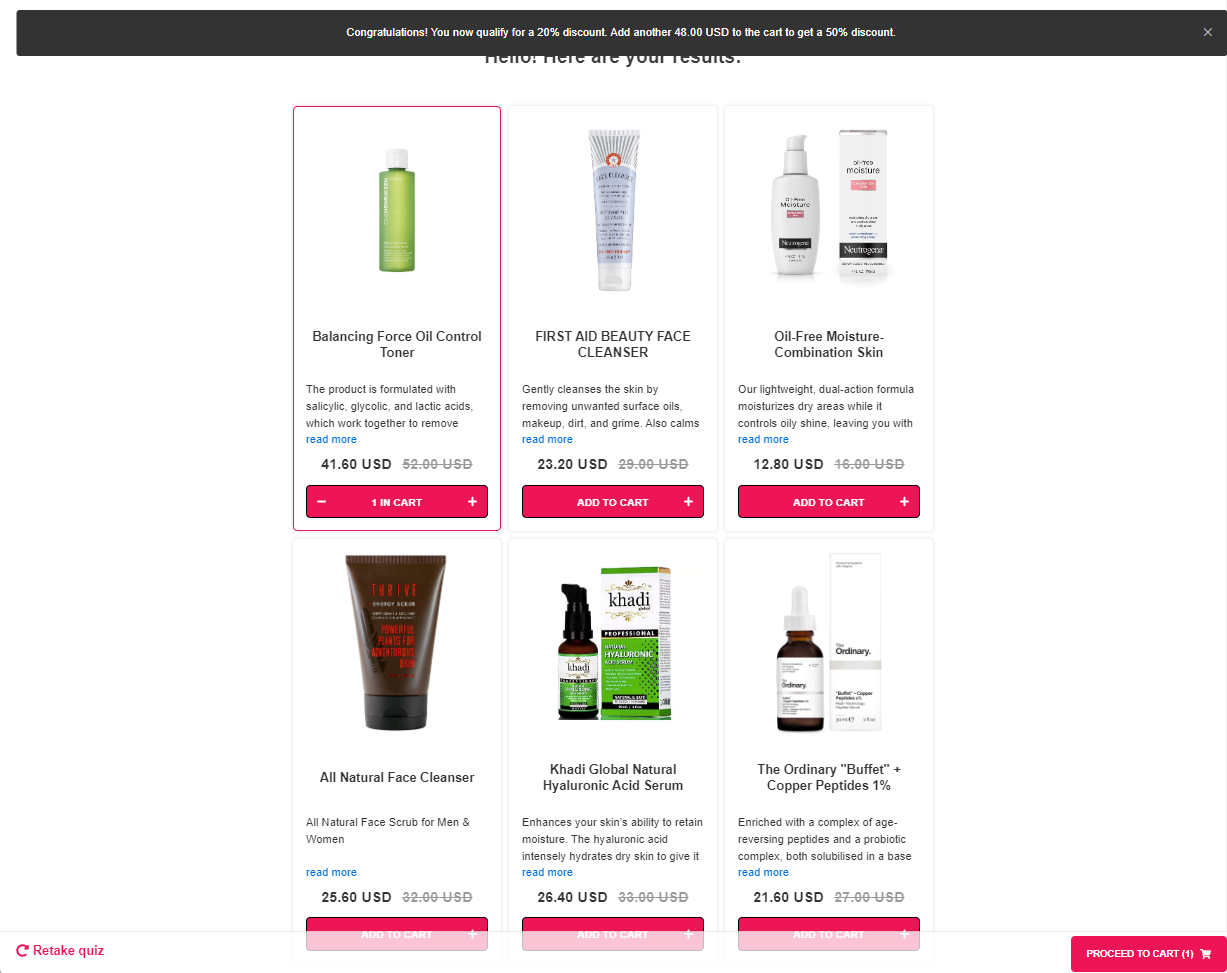 Increased Conversion and Customer Satisfaction
By providing tailored discounts through our Shop Quiz app, you can foster a sense of exclusivity and personalization, leading to increased customer satisfaction and improved conversion rates. Customers are more likely to make a purchase when they feel that the offer is specifically curated for them, resulting in a win-win situation for both merchants and customers.
At RevenueHunt, we're dedicated to empowering merchants on Shopify with innovative solutions that drive growth and customer engagement. With the introduction of Dynamic Discount Codes in our Shop Quiz app, merchants can now take personalization and customer satisfaction to new heights. Experience the power of tailored discounts, captivating notifications, and an optimized shopping experience.
To learn more about our Shop Quiz app and the new Dynamic Discount Codes feature, visit our FAQ article today and take your Shopify store to the next level.
—
Sign up or upgrade your Shop Quiz app today and start leveraging the power of dynamic discount codes to enhance your customer experience, boost sales, and delight your customers with personalized notifications!
---