Shopify Quiz: How to Add a Quiz App to your Shopify Store
11-7-2022
Shopify Apps
Adding a quiz app to your Shopify store can be a great way to engage customers and increase sales. In this blog post, we will show you how to add a quiz app to your store. We will also provide some tips on how to create effective quizzes that drive conversions. Let's get started!
Step 1: Install a Shopify Quiz App in your Store
Adding a quiz app to your Shopify store is simple and can be done in just a few steps. First, you will need to find a Shopify quiz app that you like. There are many different quiz apps available, so take some time to browse the options and find one that meets your needs. For the rest of this tutorial we'll go with RevenueHunt, which has a 5-star rating in the app store and offers a free plan.

Product Recommendation Quiz
Drive sales, segment your customers and grow your audience
Free plan available
Step 2: Create the Quiz
Now that you have a quiz app installed, it's time to create your quiz. The process will vary depending on the type of quiz you're building.
Here's a tutorial video on how to get started with the Product Recommendation Quiz app:
You can either create the quiz from scratch or use one of the quiz templates RevenueHunt offers to get up-and-going in just a few minutes.
Generally, start by adding a few questions.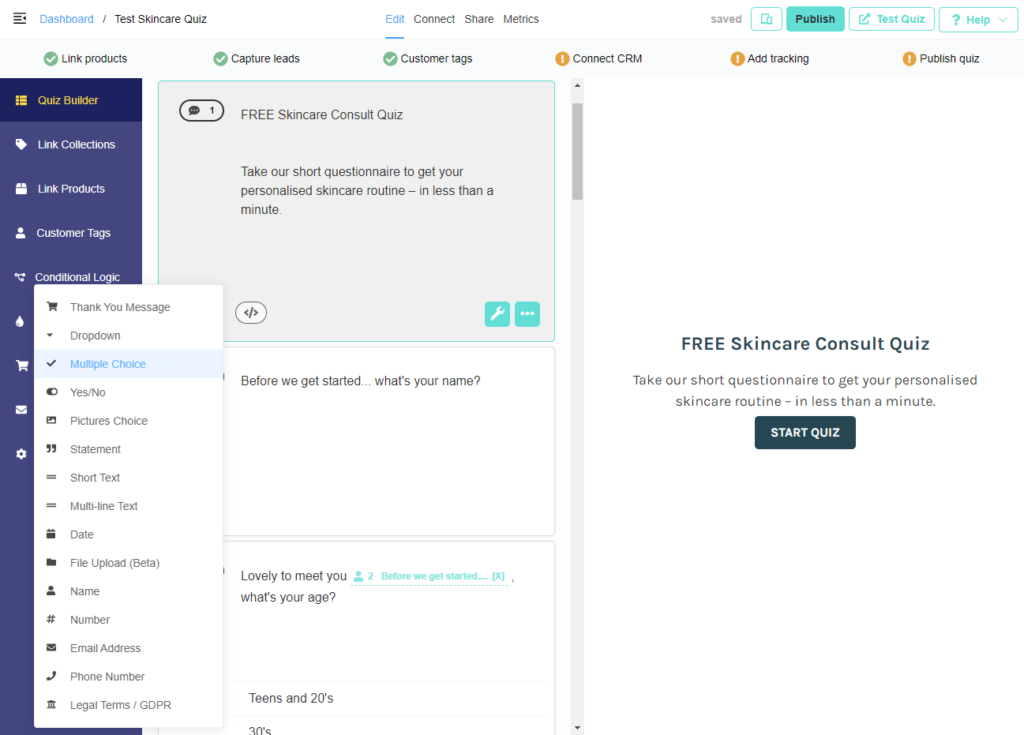 Next, link the relevant products to choices in the quiz.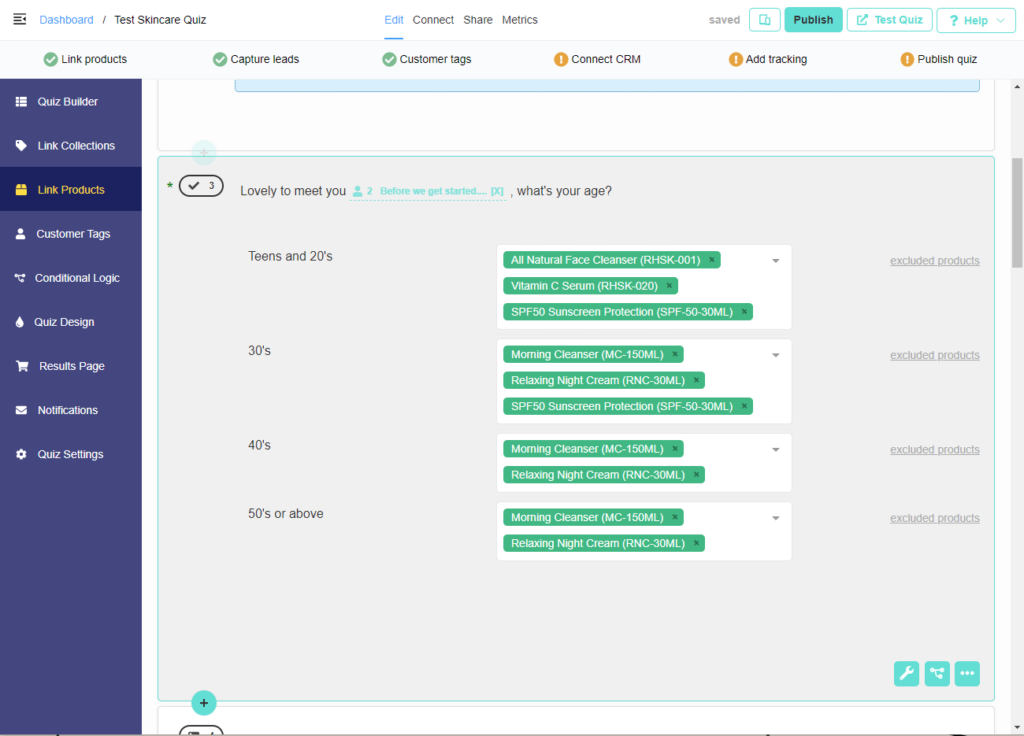 Finally, customize the look and feel of your quiz to match your brand.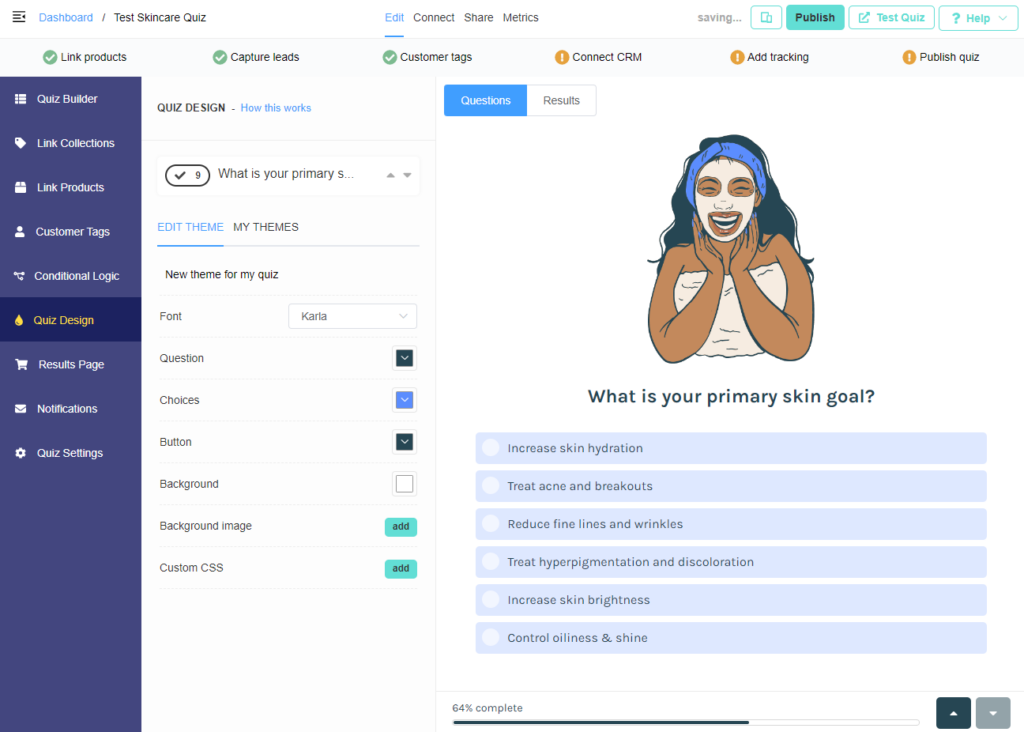 RevenueHunt has a great page with video tutorials that can take you through the quiz building process.
Step 3: Publish the Quiz in your Shopify Store
Once you're happy with the design, you should publish the quiz in your store. It's very easy!
Navigate to the Share tab in the Quiz Builder and select a publishing mode.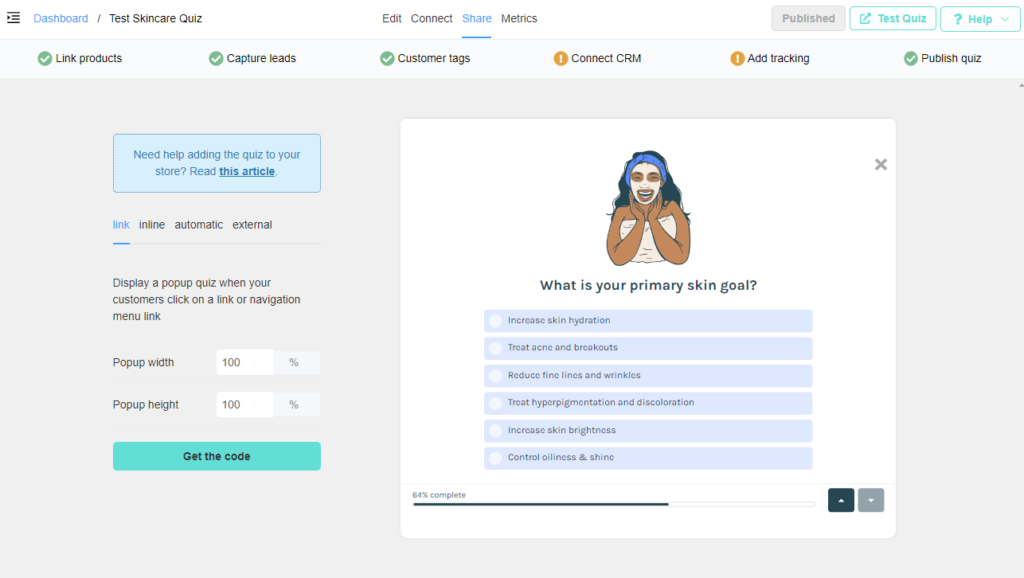 You can:
add a link popup to your website's menu
embed the quiz inline with your page/homepage
add an automatic popup
generate a link for social media (Twitter, Instagram, Facebook)
Pick a publishing mode and generate a code to add it to your website.
Step 4: Drive Traffic to the Quiz
Now that you've published the quiz, it's imperative that people know how to find it. 
To maximize quiz completions and improve your conversion rate, it is recommended to drive traffic to your quiz. 
Here are some ideas of how to get customers interested in the quiz:
Add a banner to your website. A beautiful eye-catching banner is exactly what your quiz needs to get every visitor's attention.

Run ads. If you have the possibility, running ads for a dedicated quiz page can really pay off in a long run. Customers who are sure they will get additional value from the quiz, like personalized advice or a skincare routine tailored to their needs, will be more likely to buy and the costs of a marketing campaign will quickly be covered by the increased conversion rate!

Offer a discount for completing the quiz. Nothing is more enticing for the customer than the possibility to get a 20% off of their favorite product. One way of increasing your quiz engagement is to offer a special discount only to quiz takers.

Share the quiz with your email subscribers. If you have a list of email subscribers, you can send them an email about the quiz with a link to take it. This is a great way to reach your target audience and can be very effective in getting more people to take the quiz. You can also add a paragraph about the quiz in your weekly newsletter or marketing campaign.
Looking for more ways to promote the quiz? Check this article.
The benefits of adding a quiz to your Shopify store: Zero-Party Data and Guided Selling
There are many benefits of adding a quiz in your eCommerce store. First, it allows you to get to know your customers better. Not only that, but it also allows you to create more personalized experiences for your customers.
Quizzes help Shopify stores to collect zero-party data from your customers. Zero-party data is data that your customers intentionally share with you. With this data you can hyper-personalize both the customers' purchasing experience and the marketing campaigns you'll create to retarget them.
Another benefit is guided selling. Shopping is VERY personal: every customer is unique and being engaged by a salesperson is key to a successful shopping experience.
A Shopify quiz engages your customer just like a salesperson would do. The quiz asks your customer general questions. Once the customer finishes the quiz, the app gives personalized product recommendations along with a story around why the recommended products are perfect for him or her.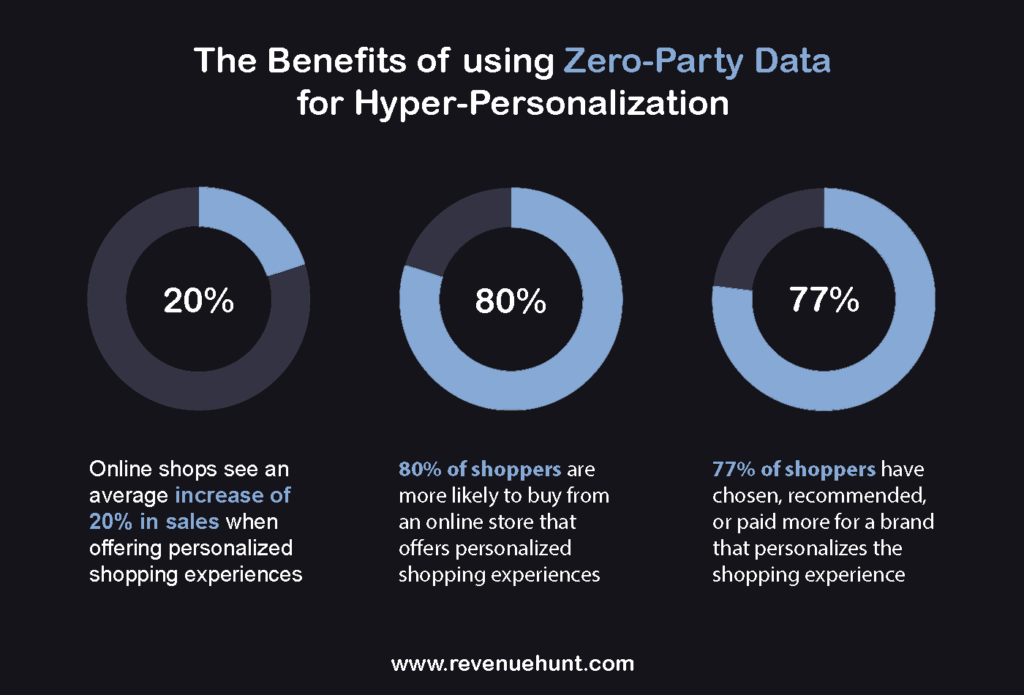 Get started today.
A shopping quiz improves the customers' product discovery experience and guides them from start to cart. Install Product Recommendation Quiz in your store today and start driving sales with conversational marketing:

Product Recommendation Quiz
Drive sales, segment your customers and grow your audience
Free plan available
---