Table of Contents
Getting started: create your first Product Recommendation Quiz
In the app's dashboard, click on the "add new quiz" button: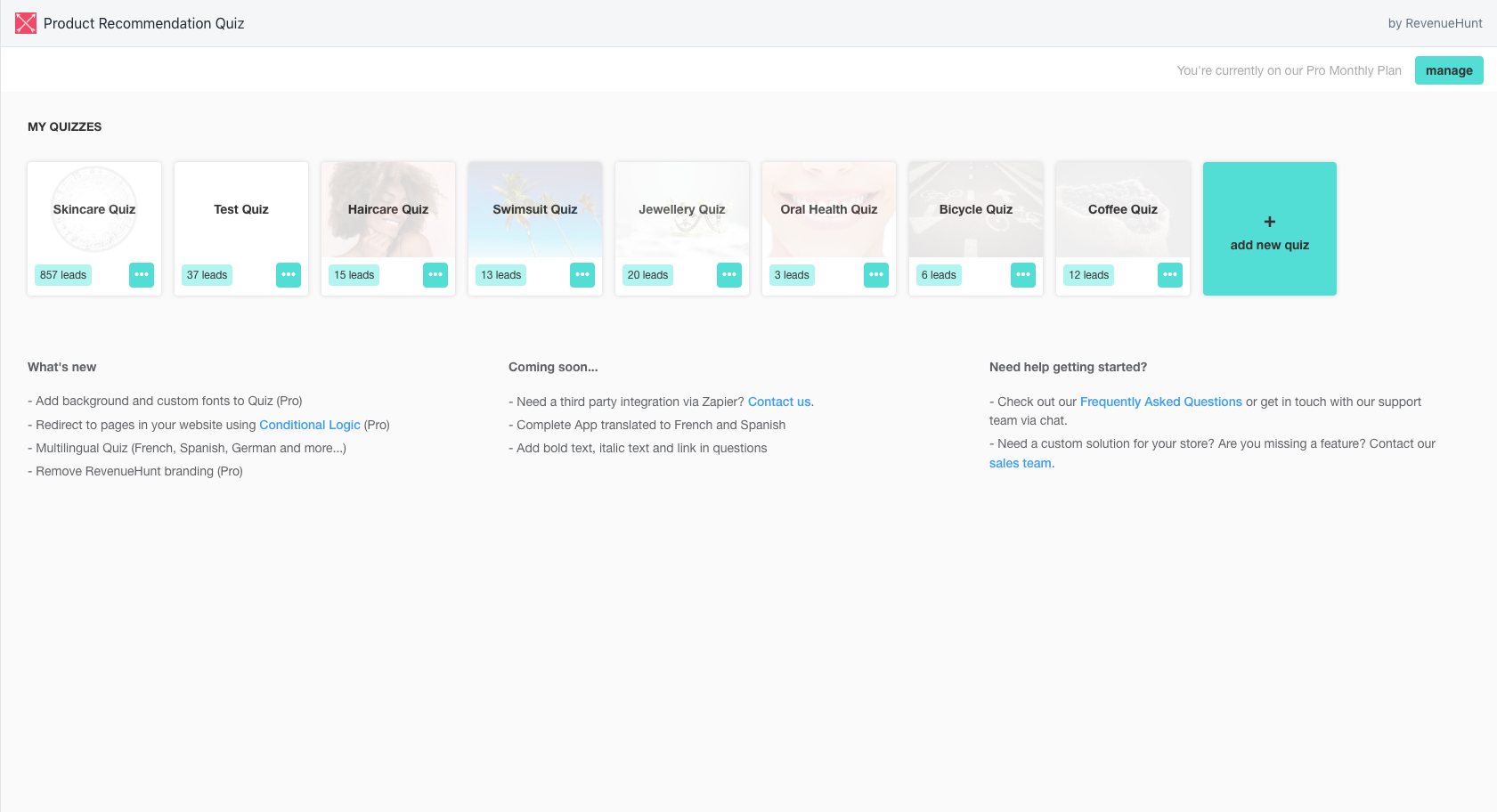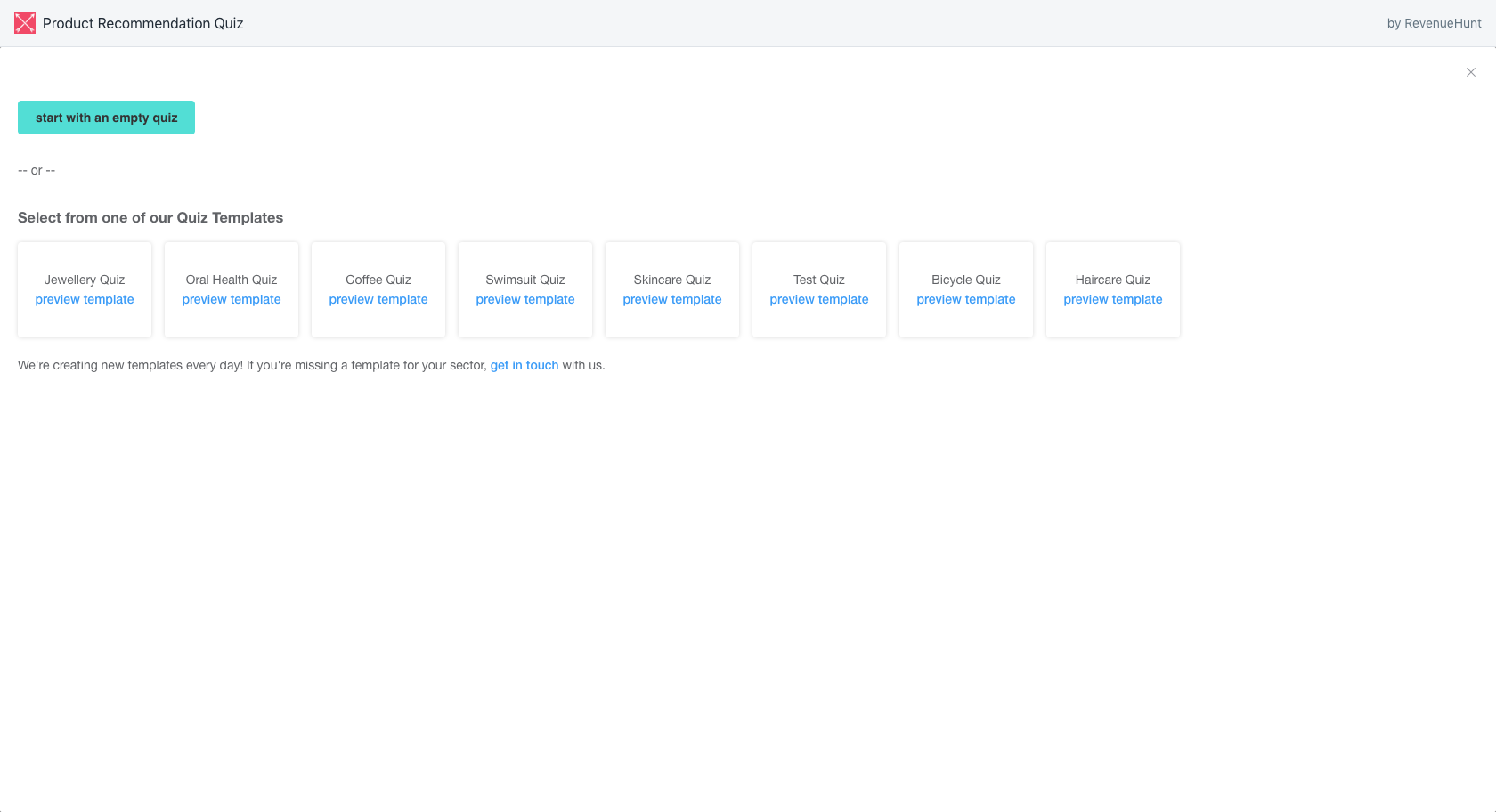 Give a name to your quiz (you can edit it later):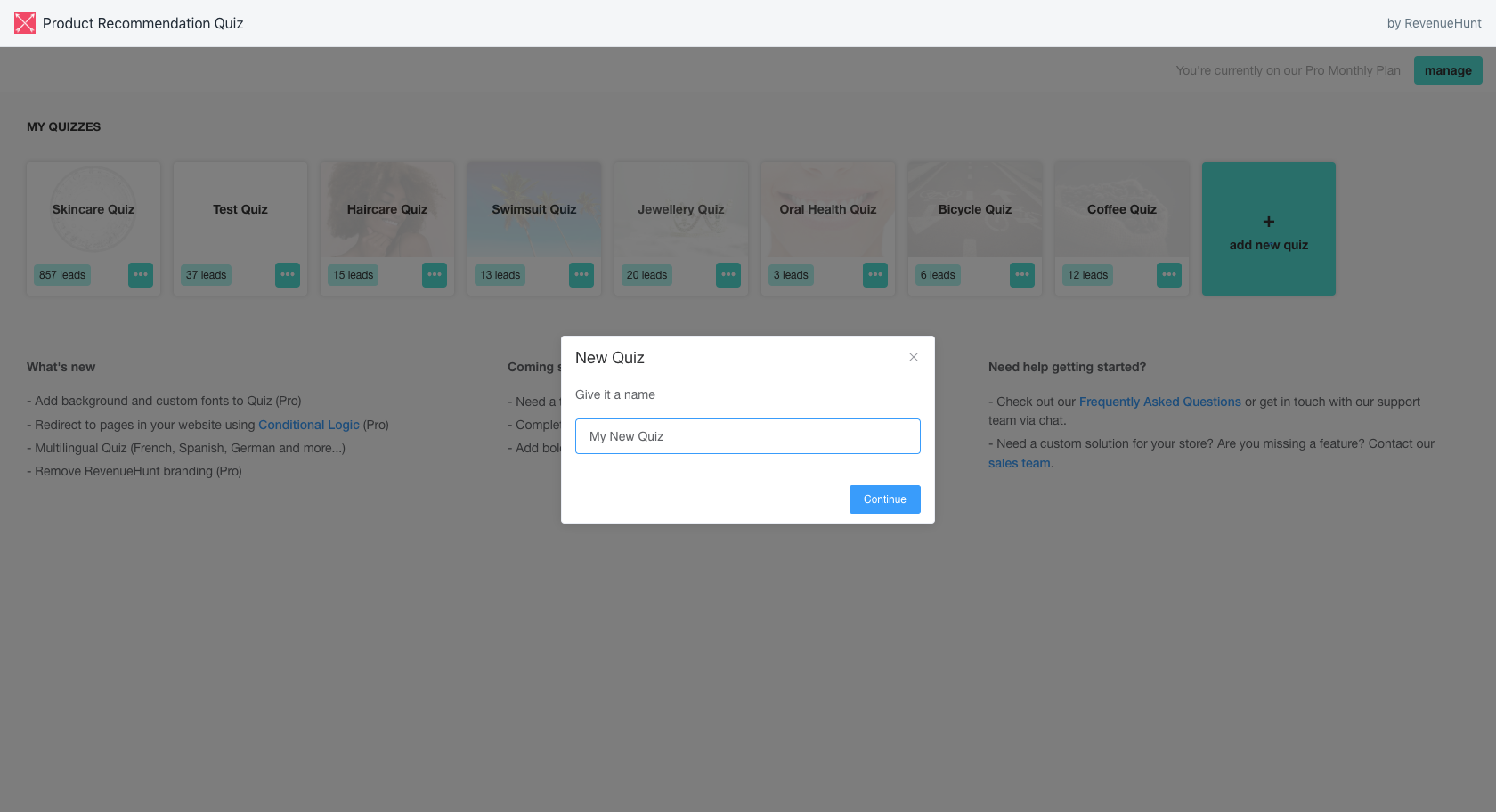 If you follow the previous steps, you should end up in the Quiz Builder section, where you can add/delete questions, create different options for each question and link your products and collections to each option.
Adding and deleting questions
To add a new question to your quiz, hover over any existing question until you see the "add new question" button highlighted.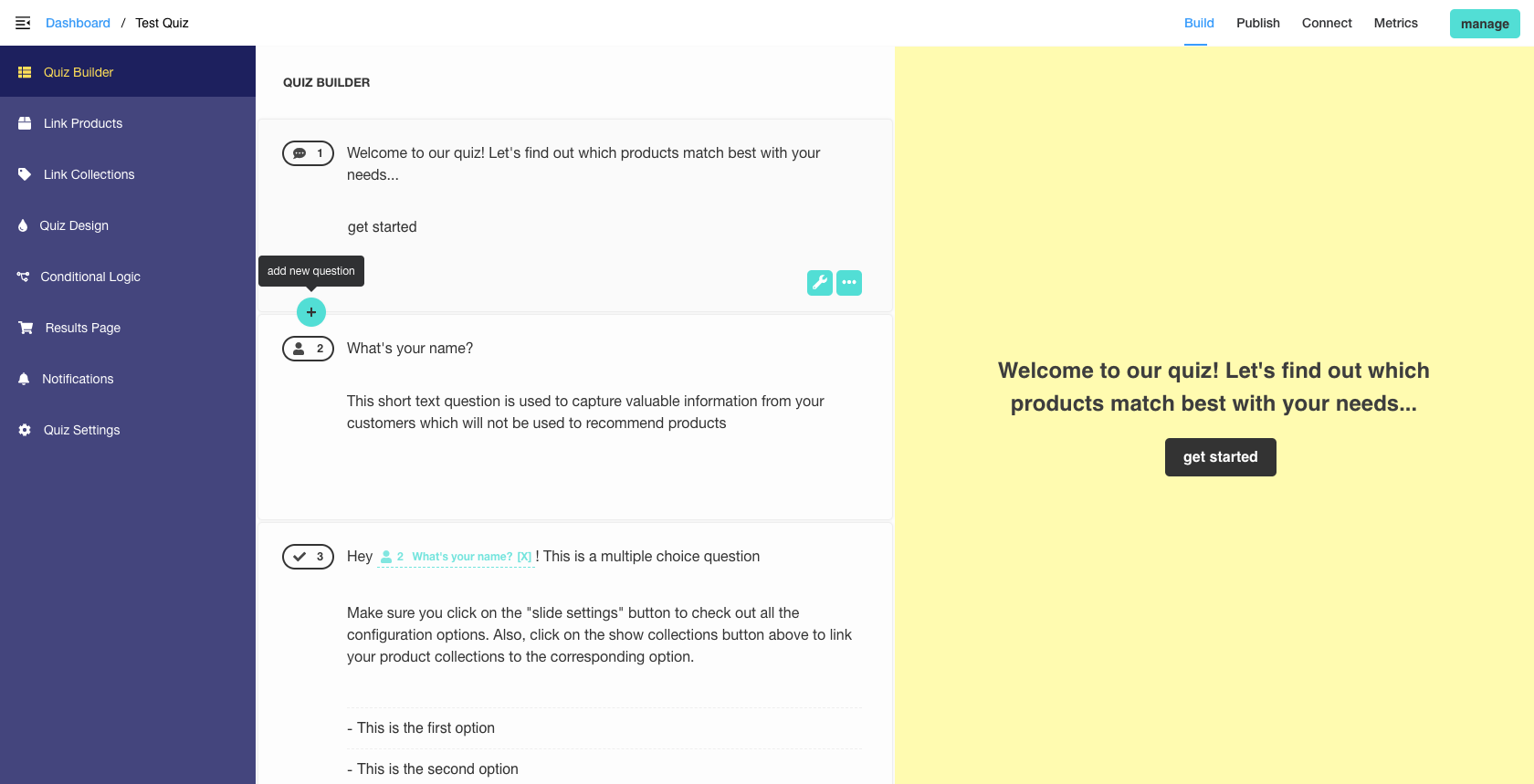 Click on it to choose one of the following question types from the dropdown list: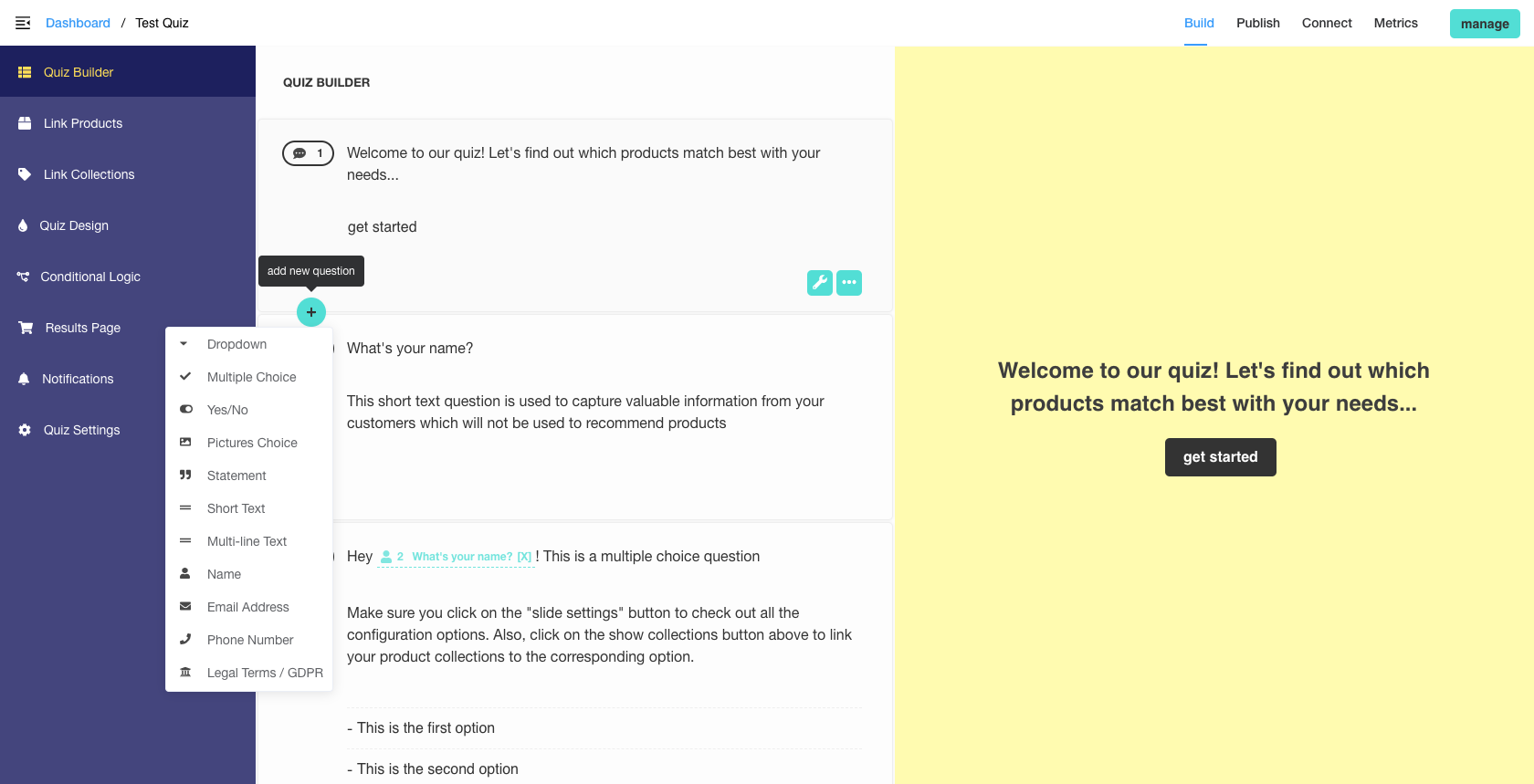 To delete a question, click on the "more options" button (three dots) and then click on "Delete":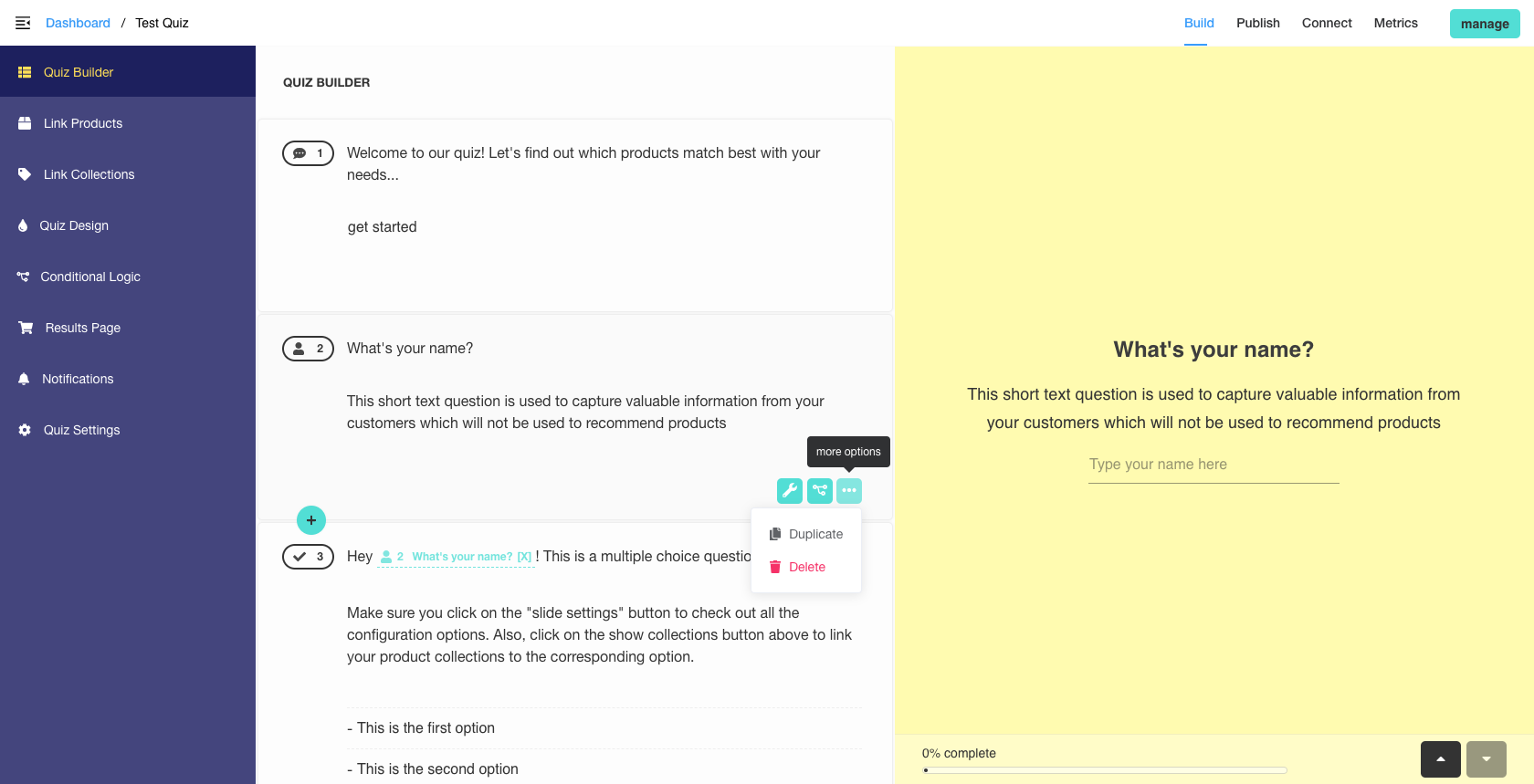 Customize the quiz results based on your customer's responses
The beauty of our solution, what really differentiates us from other quiz or form builders, is that we use your customer's responses to recommend the products which best match their needs.
This is done by linking Product Variants and Collections (Collections can be easily created and managed in your Shopify Store) to each specific response. To do this, click on the "Link Products" or "Link Collections" tab in the Quiz Builder.
Note that it's individual product variants which are linked to each choice, not the product itself. Although on our results page variants can be grouped into top-level products (variants can be picked using a dropdown), on Shopify only variants can be added to the cart, not the products themselves.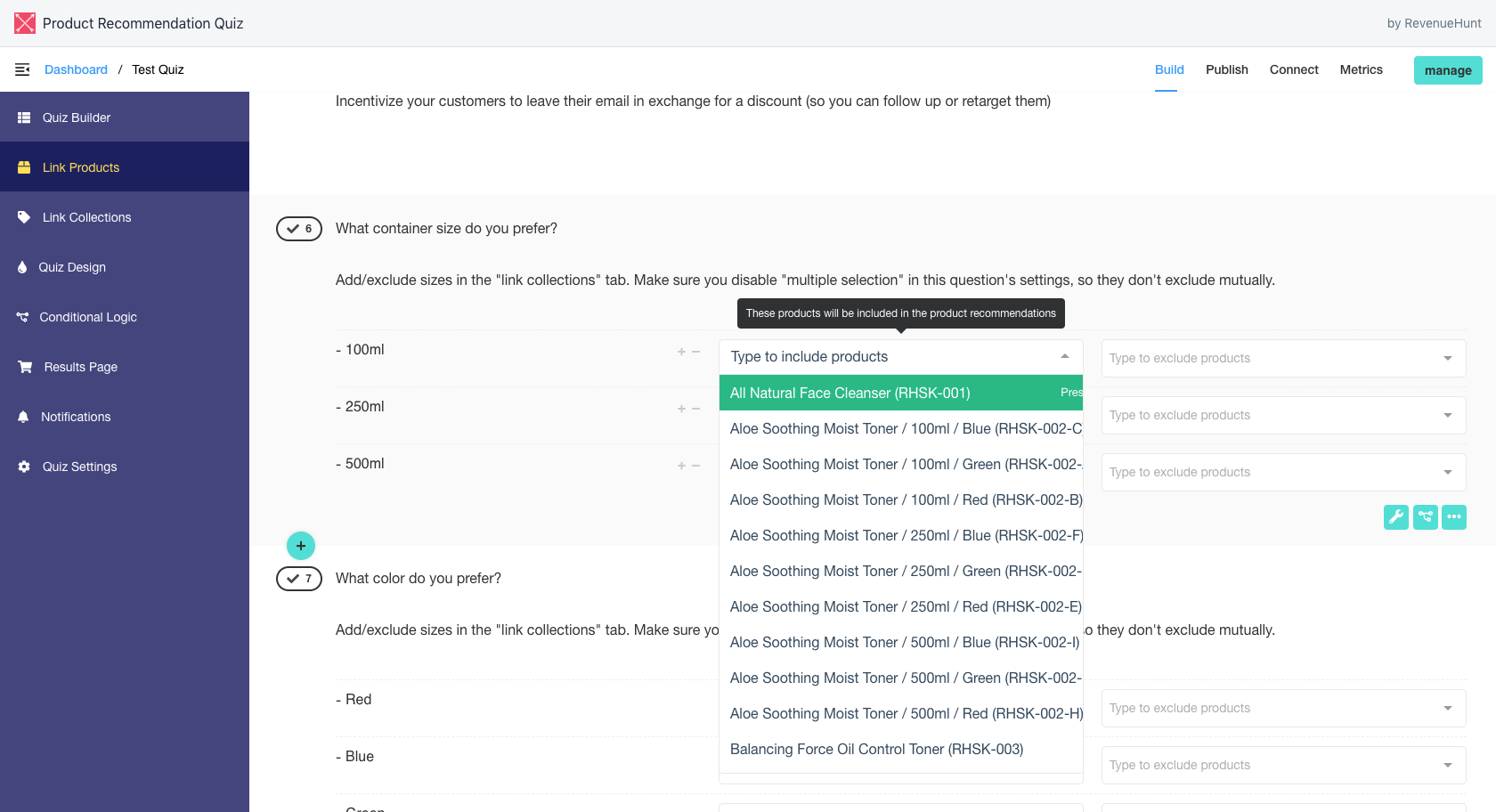 This will display two inputs for every response. The left column is used to link product variants or collections which will be upvoted in the product recommendations if your customer selects that option.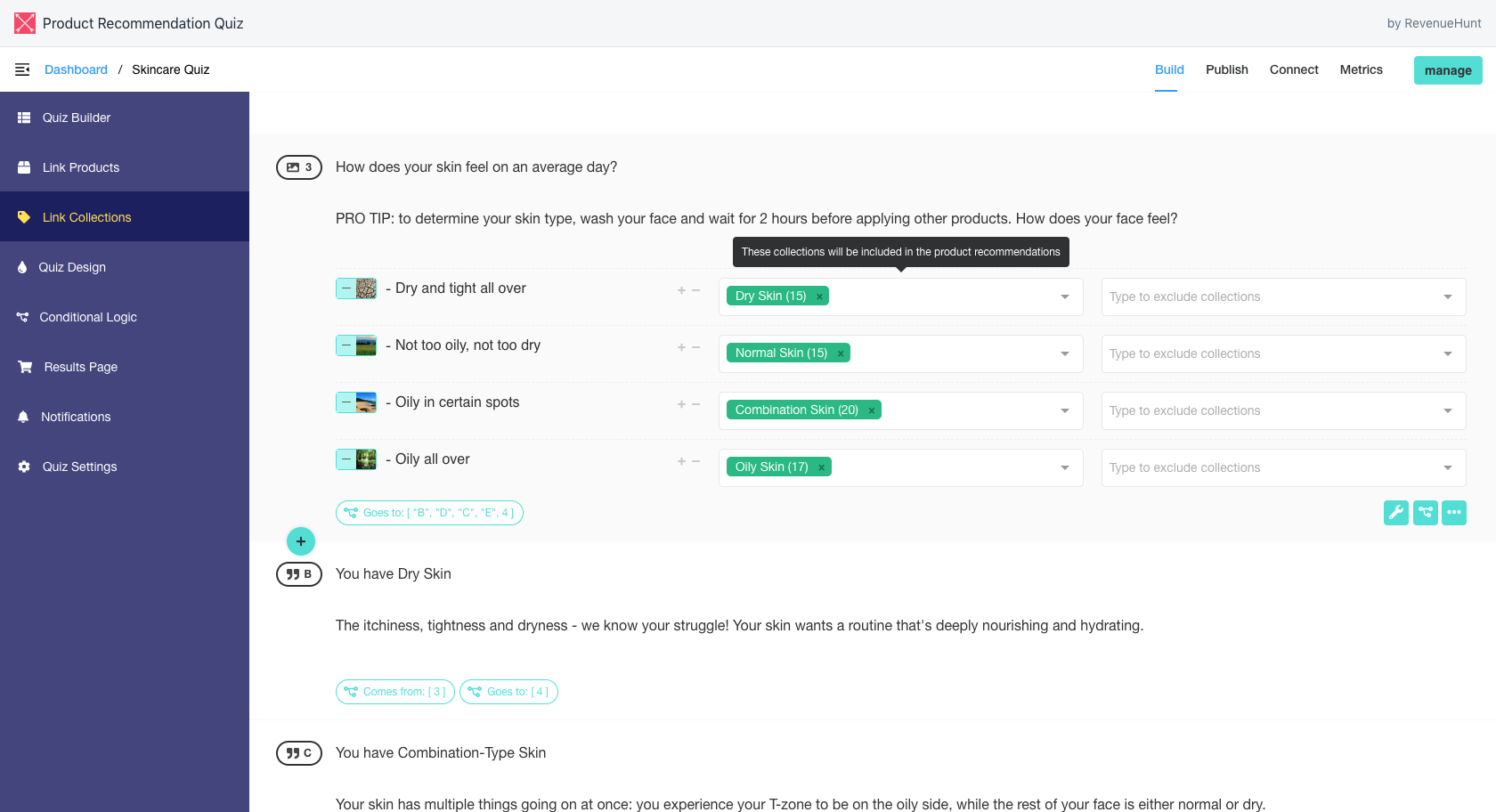 The right column is used to link product variants or collections which will be excluded from the product recommendations if your customer clicks on that option. This is very useful for excluding product variants which might contain allergens or sensitive ingredients.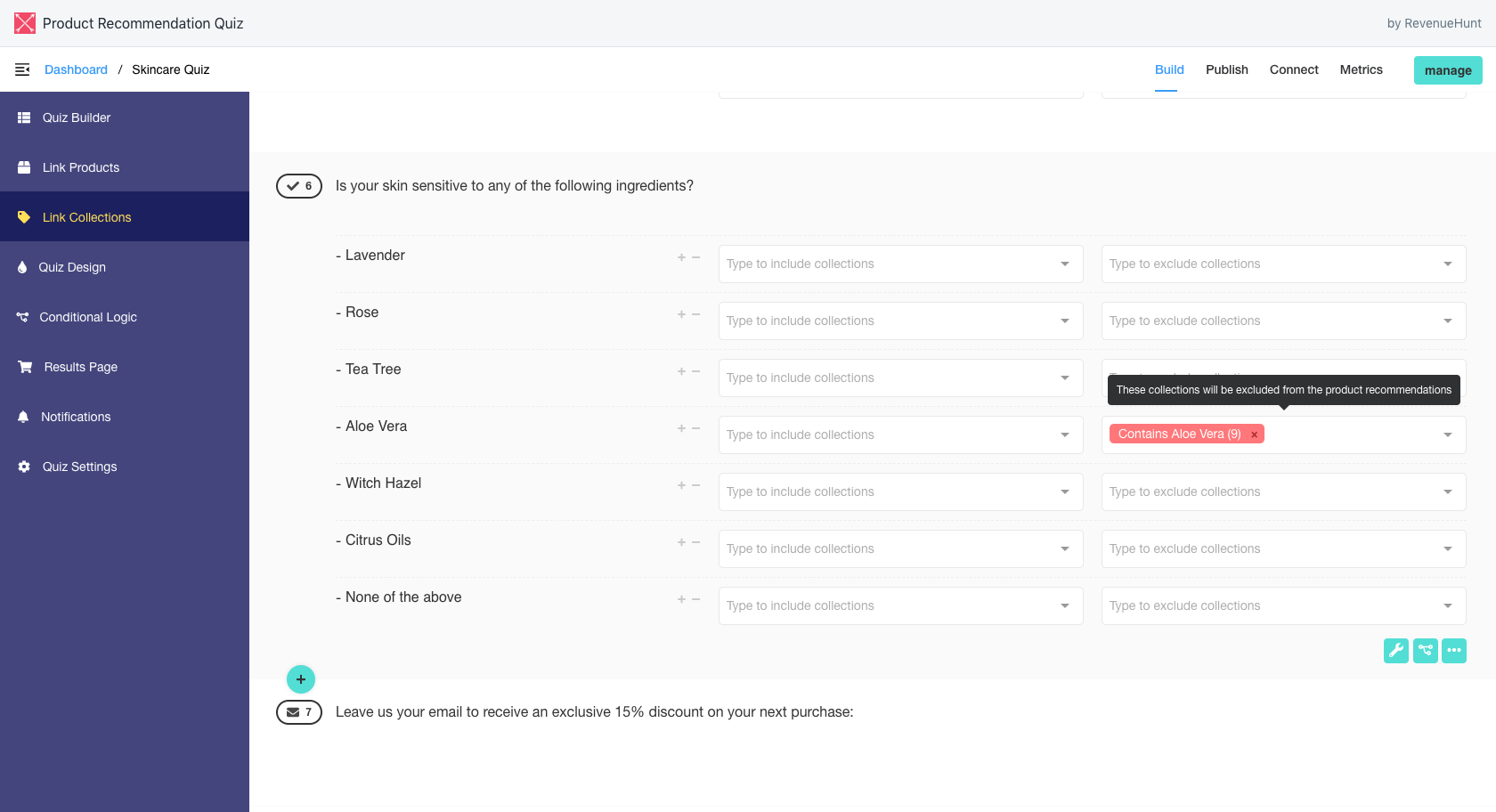 It is very important that if your products are correctly tagged and categorized in your Shopify Store's collections because our Product Recommendation Quiz's logic depends on this to accurately recommend products to your customers.
Customize the quiz design to match your website's look & feel
Our editor allows you to pick one of our multiple color palettes, edit the questions/responses and choose between multiple response types (multiple choice answers, image choice answers, open text answers, email or phone capture…)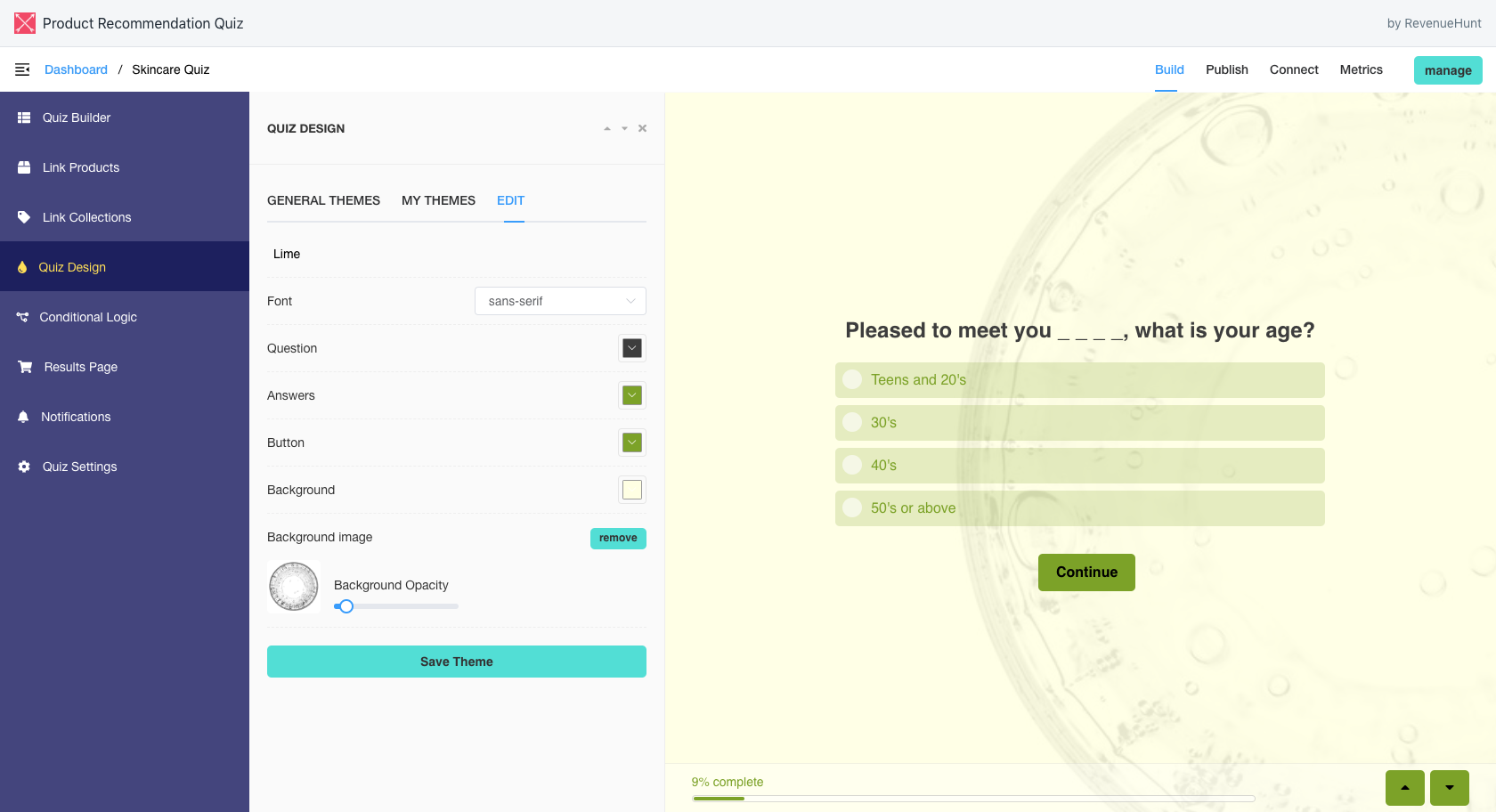 However, if this is not enough and you really want to fine-tune your quiz's design, get in touch with us so we can understand your goals and give you an estimation.
Publishing the quiz on your store
Once you've finished building your quiz, linking your product collections to each response and customizing the quiz's design to match your store's look & feel, you'll be ready to go live.
Click on the "share" link on the top-right corner of the quiz builder. This should open a view where you can choose among our different display options and preview how the quiz will be embedded on your website: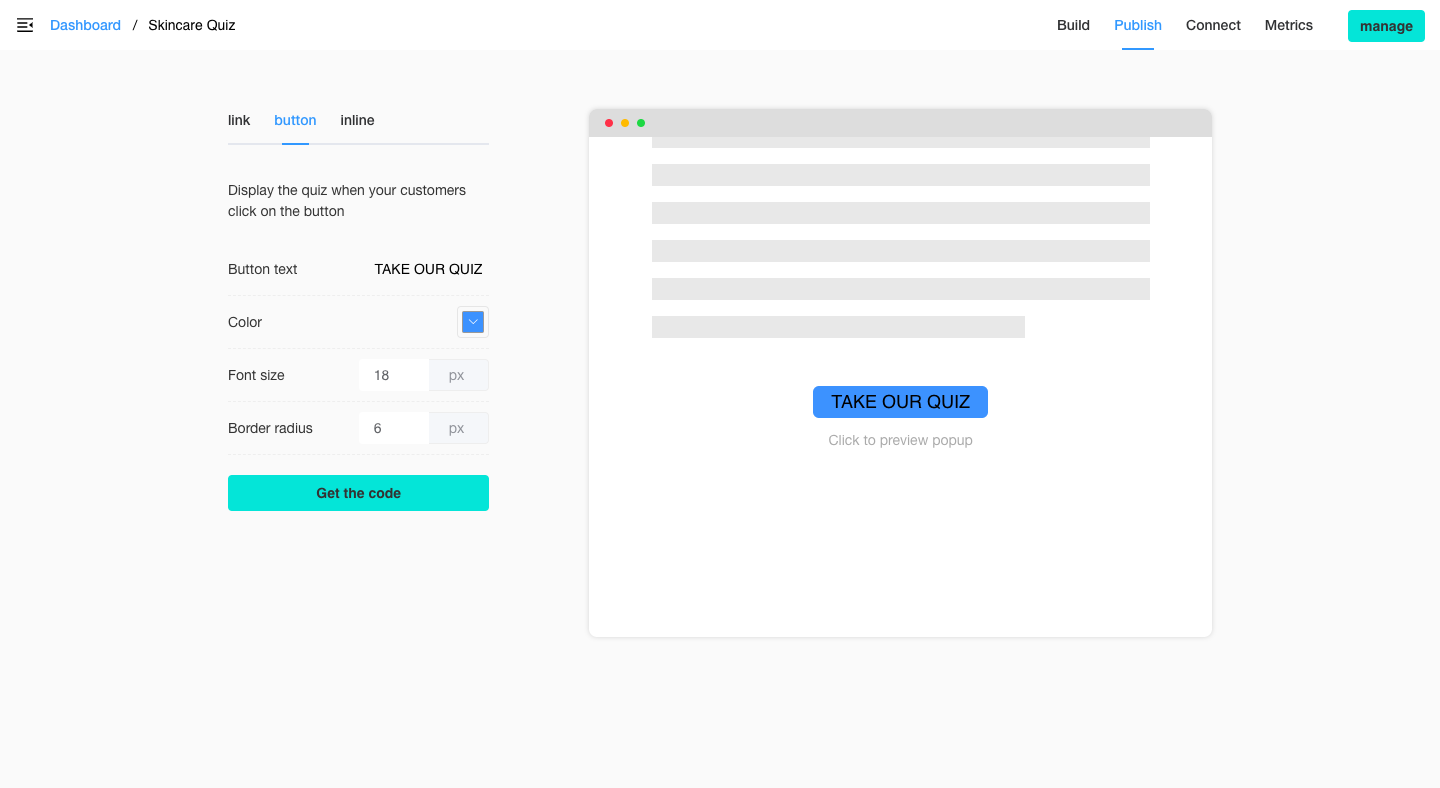 There are three ways your quiz can be added to your store:
Popup Link. The quiz will be displayed as a popup when your customer clicks on a navigation menu link or a link on any page or blog post.
Popup Button. The quiz will be displayed as a popup when someone clicks on the button.
Inline Embed. The quiz will be displayed inline inside the content of any page or blog post.
Just copy the code and follow the instructions to insert it in your store.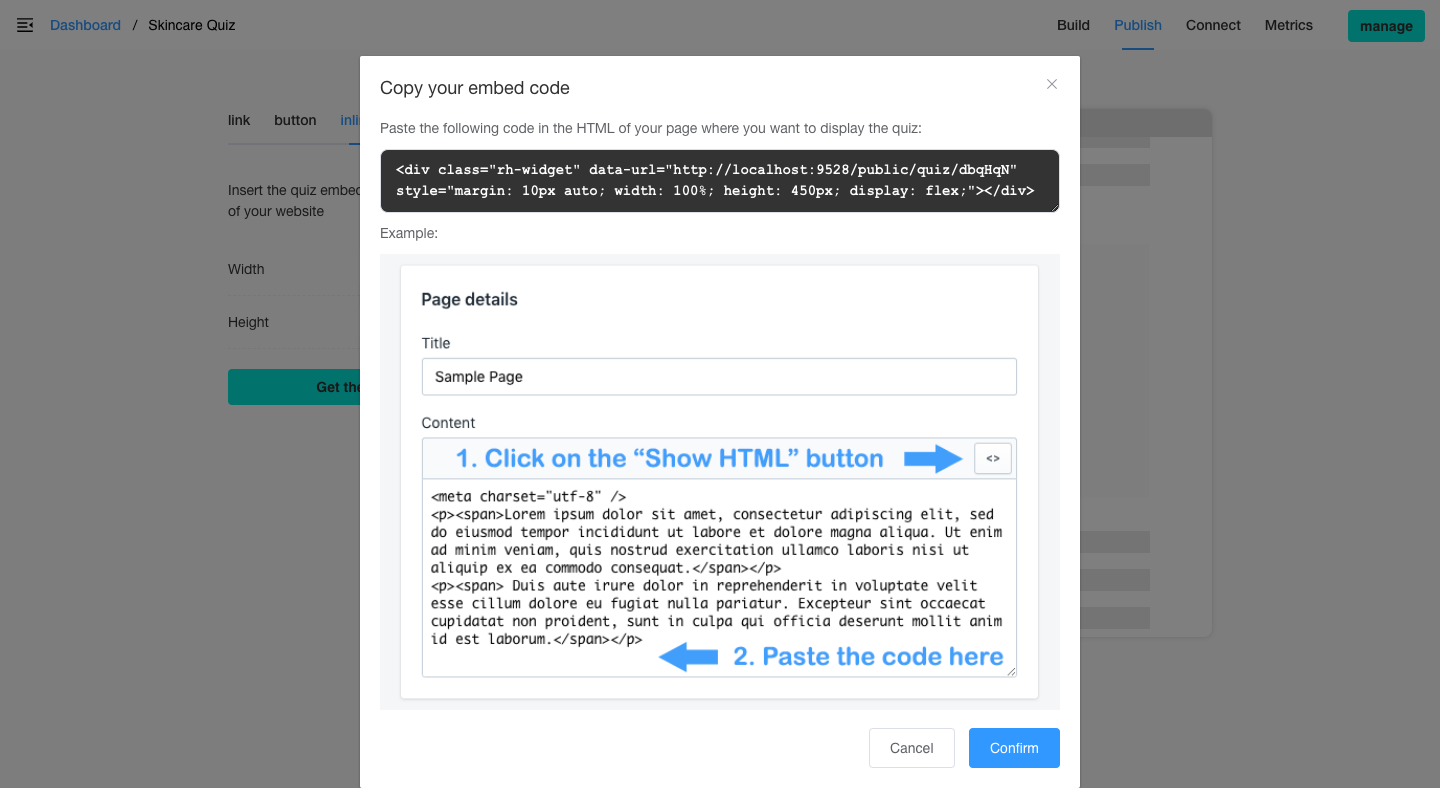 How does Conditional Logic work?
For example, imagine you want to create a skincare consult quiz for your store. First, you would ask a general question like, "What's your age" or "What type of skin do you have?" and your customers would have to choose between the options you lay out for them (Dry, Normal, Combination or Oily skin).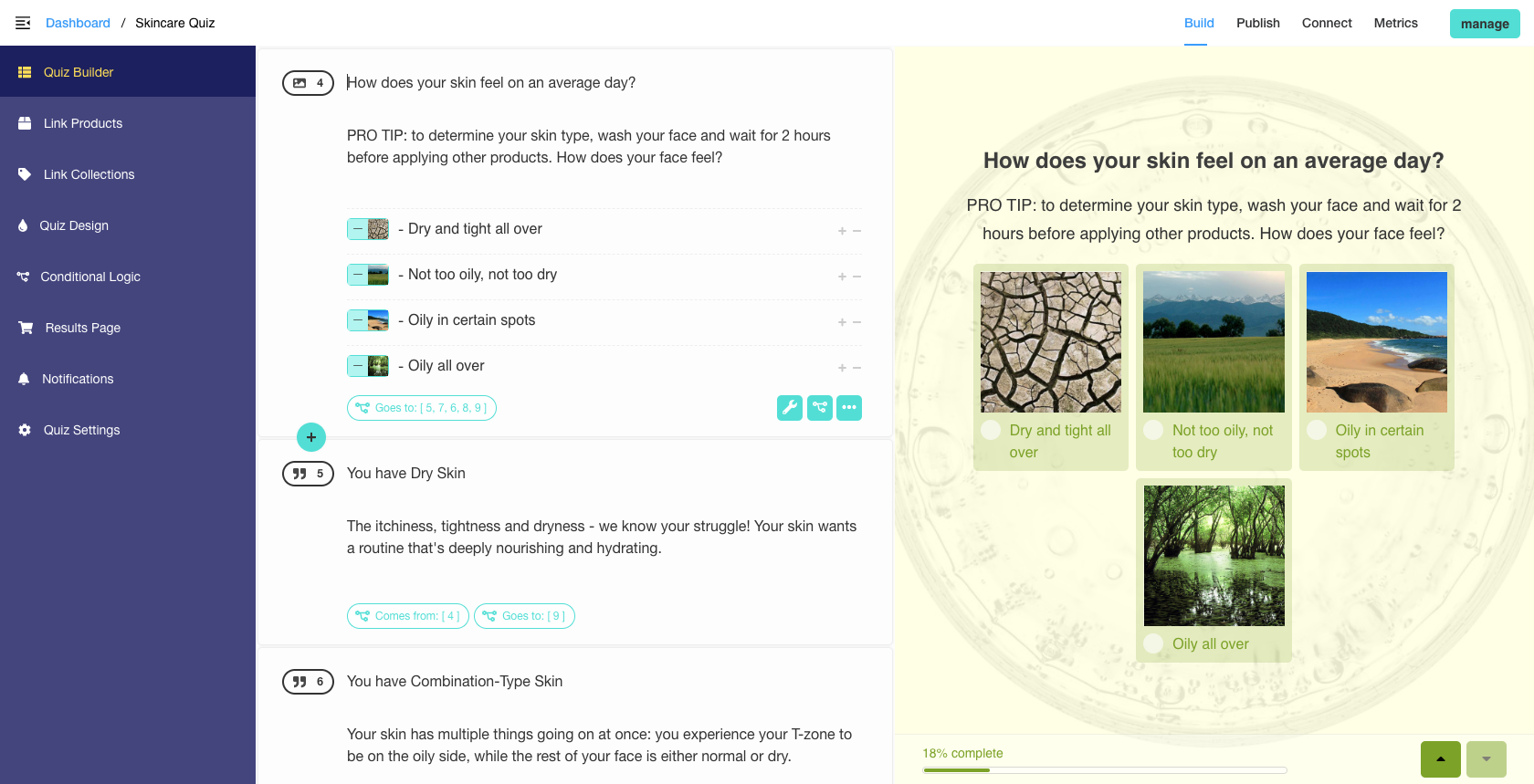 With Conditional Logic, you can show customers with oily skin certain questions (specifically targeted for women with oily skins), while customers with dry skin would skip these questions. It's like having a visual interface for creating IF-THEN-ELSE conditional statements, with the advantage of not needing to know how to code 😉
You can create multiple Conditional Logic rules for one single question, so you can direct them to multiple target questions depending on what they respond.
ERROR: products and collections not showing
You're trying to link products and collections to each choice but they're not showing in the dropdowns in the "Link Products" and "Link Collections"?
If you've just installed the app, note that it takes a while to sync all your Shopify store's products for the first time, so they might not appear in our app yet. Please wait 30-60 minutes and, if the problem persists, get in touch with us.
ERROR: products and collections not being recommended/excluded
The products and collections you've linked to each choice are not being recommended/excluded in the results page? If you've been editing the products and collections in your Shopify store recently, it's possible that your store and our app are out of sync.
We are constantly syncing your latest product and collection changes via the Shopify Webhooks but sometimes they might get out of sync. This is why we also sync all your data with Shopify every 24 hours.
ERROR: pictures not uploading
You're trying to upload pictures to the Picture Choice question, or maybe you're trying to upload a quiz background in the theme editor, but they don't upload?
It's possible that you have multiple Shopify store sessions active, which might cause issues. Try clearing your browser cache and cookies or opening a private tab in your browser.
Any more questions? Get in touch!
We're try to keep this page updated with questions frequently asked by our users. However, if you need any additional information, send us a message using the chatbox or get in touch with us via email. We'll be glad to help!